The Magic of Another Woman's Wardrobe - Montreal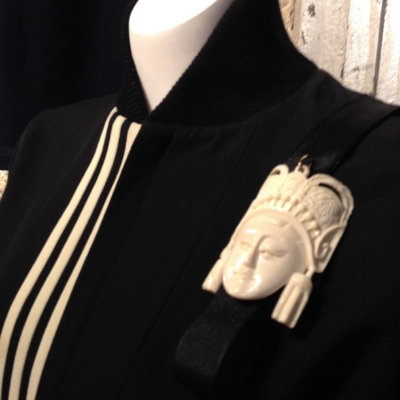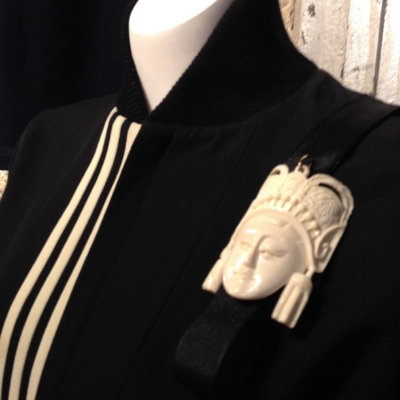 During a trip to Montreal in February, I found myself with a few unattended hours and discovered the hidden-in-plain-view Musée du costume et du textile du Québec. According to its website, "The Musée du costume et du textile du Québec presents bold exhibitions on garments, fabrics and fibres. Its historical, multicultural and contemporary approach immerses visitors in the worlds of fashion, traditional textiles, modern fibre art and the clothing practices of various cultures." In spite of the its relatively small size, the museum is like a laboratory for textiles and clothing design, and also (from its website) "the only museum in Quebec devoted entirely to costumes, textiles and fibres."
I paid my 7 CAD (approx. $5.40 USD) and wandered in. I don't think I expected much. I had never thought of Canada as a fashion mecca. For one thing, it's really, really cold and, although everyone speaks French, everyone is SUPER nice. When I think of fashion - that's Fashion, capital "F" - I guess I've equated snootiness and snobbery with the art of clothing design and appreciation; ergo, Fashion makes me think of New York, Paris, Milan... Not Quebec.
The girl at the desk told me there was only one exhibit, Parcours d'une elegante, a collection of 550 garments and accessories given to the museum by a single donor, and that it would take about 45 minutes to go through the exhibit. To be honest, this seemed weird to me given the small size of the museum and my Canadian fashion knowledge, which began with plaid flannel and ended with snowshoes.
At first, the clothes looked a bit, er, dowdy. Old lady-ish. Granny. But the placards on the walls told a very different story. The donor, Beatrice Marrelli Pearson, loves clothes. She isn't among the super rich, although you can tell she likes to splurge on beautiful items. She just loves what she loves, and loves to mix and match splendid discoveries from secondhand shops with the finest designer dresses and shoes. She learned to sew at a young age because her family didn't have a lot of money, and this skill enabled her to design gorgeous dresses of her own (with the help of a seamstress) when she lived abroad in China. Some of the ensembles were outlandish mix-and-match spectacles, and others would be at home tomorrow on the Fashion Week runway. Designers included Thierry Mugler, Yohji Yamamoto, Valentino, Jean-Paul Gaultier, Emanuel Ungaro, Christian Dior... Her closet is a who's who of late 20th century design. A shoe wall in the last room displays valuable Louboutins alongside Steve Madden pumps. Her wardrobe reflects a love of good design, tempered with a real world budget that sometimes allows for splurges.
I got a kick out of Beatrice's spunky style and commitment to wearing whatever she likes. I also identified with her love of beauty for beauty's sake. She bought an Ungaro suit in a resale shop and wore the jacket often, but has never worn the skirt. According to the museum's signs, she still considers the suit a treasure. In the early 2000s, I bought a pair of 5-inch persimmon-colored platform heels by Coach because I couldn't stand the thought of not owning them. I've worn them once, maybe twice, but the enjoyment I get from seeing them in my shoe rack is immeasurable and I still get a kick when my girls try them on in my closet.